Frank de Boer, creation, and breaking blocks
In soccer, it's always harder to create than it is to destroy. But that truth won't stop Frank de Boer from trying.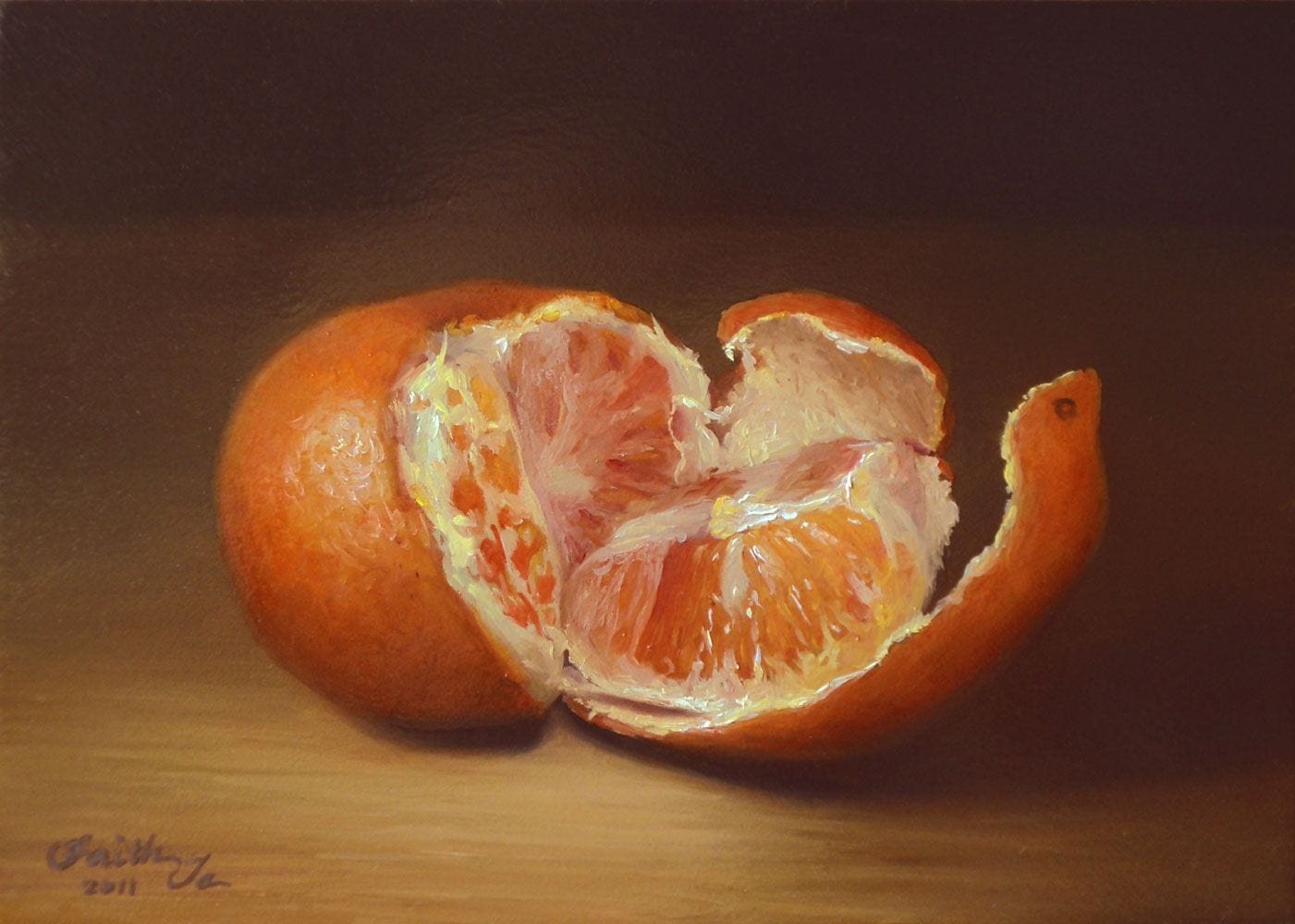 Painting by: Faith Te.
A couple of weeks ago, I grabbed lunch with a coach friend of mine. We sat across the table from each other, ate extremely mediocre Chinese food, and talked about soccer for an hour and a half. Somewhere in the middle of our conversation (I think it was before we tried to poke our fingers through the slits in the metal table to map out Arsenal's buildup shape, but just after we chatted about Jose Mourinho lapping up the camera's attention on Tottenham's All or Nothing series), he said something that's been running through my head ever since.
In soccer, it's always harder to create than it is to destroy. 
It wasn't an original thought, yet it stuck out to me. It's way easier to knock something down than it is to build it up. In soccer, it's really hard to use the ball to disorganize the opponent and create goal-scoring opportunities. Few teams can use possession as an effective weapon and few coaches can coach that kind of possession. But that hasn't stopped Frank de Boer from trying.
Editor's note: I assume this is the point where Atlanta United fans will begin nodding their heads so aggressively that they will soon start to notice a bit of pain in their necks. Sorry about that. Maybe try a chiropractor?
After a 1-0 loss to Mexico in a friendly last week and a 0-0 draw with Bosnia and Herzegovina in the UEFA Nations League on Sunday, the Netherlands are scoreless in their first two games under their new manager. It's a small sample size, even for international soccer where you only ever get small sample sizes, but as those zeroes indicate, the Netherlands' attacking play has been largely ineffective over the last 180+ minutes.
Does a pair of scoreless games mean that de Boer needs to overhaul his offensive strategy? Absolutely not. When you're in charge of a talent-rich player pool, you almost have to try to break teams down with the ball. When you're in charge of the Dutch and their talent-rich player pool, you absolutely have to try to break teams down with the ball. 
Right now, though, the Netherlands aren't breaking anybody down. They've seen firsthand how difficult it is to create. In soccer, it's always harder to create than it is to destroy. And if you make mistakes in possession and miss opportunities to move the ball or the receiver into valuable spaces, you make creating more challenging than it already is. That's what the Netherlands did on Sunday against Bosnia and Herzegovina. They made their own lives more difficult with inefficient, ineffective possession.
While the KNVB most definitely doesn't have me on retainer (although if the powers-that-be are reading this, I am available), I have taken the liberty of pointing out two possession-y problems that popped up over the weekend and should be addressed by the fine folks over there.
Problem #1: A lack of movement behind the backline
When you're facing a compact defensive block, like the low 4-5-1 block that the Netherlands faced against Bosnia and Herzegovina, there are two main ways to break through and attack the goal.
Shift the block from side-to-side to create dribbling gaps

Send players straight through the block and pass balls to them
Let's stick with the second block-beating approach for a moment. You typically force your way through a defensive block with direct, vertical off-ball movement that gets a receiver open behind the backline. Allow me to quote myself from the very first edition of Benched (it's a narcissistic move, I know) on why runs in behind can be so valuable for a possession team: "a standing defender is pretty much always going to get beaten by a sprinting attacker."
Running through a defensive block is worthwhile but you can't do it without, well…runs. And for about 75 minutes on Sunday, the Dutch were just about runless. Because the Netherlands weren't moving behind the backline, Bosnia and Herzegovina almost never had to defend on the back foot. They controlled the game (as much as any defensive team can) by keeping the Oranje in front of them.
Look at this play. It's a 15-pass sequence with some horizontal ball movement but no viable, direct off-ball movement to break the backline until the very last pass. Georginio Wijnaldum looks like he just might, maybe, possibly, potentially be thinking about breaking the backline at 13:05. Alas, he decides against it. Don't get it twisted: though the ball is moving, this is stagnant possession play. 
As mentioned, the Dutch did eventually start making some direct off-ball runs with about 15 minutes left in the game. Unsurprisingly, those runs were effective.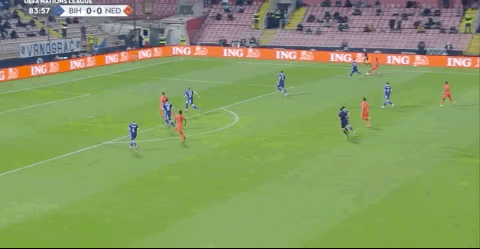 Problem #2: Mistimed countermovements 
Now, let's take off-ball movement one step further, shall we? Let's say that some guy who writes a newsletter is all over you for not making runs into space behind the opposing backline. Obviously this is a totally hypothetical situation, but let's just say it was real. One way to get the newsletter guy to shut up could be to point out that sometimes there isn't a great gap in the defense to run through.
Enter: "countermovements". It's a long word, but don't be scared. It's a simple concept. Countermovements are two separate movements completed by two separate offensive players who are occupying the same general area. To avoid overcrowding one part of the field, one player peels off in one direction and the other player peels off in a different direction.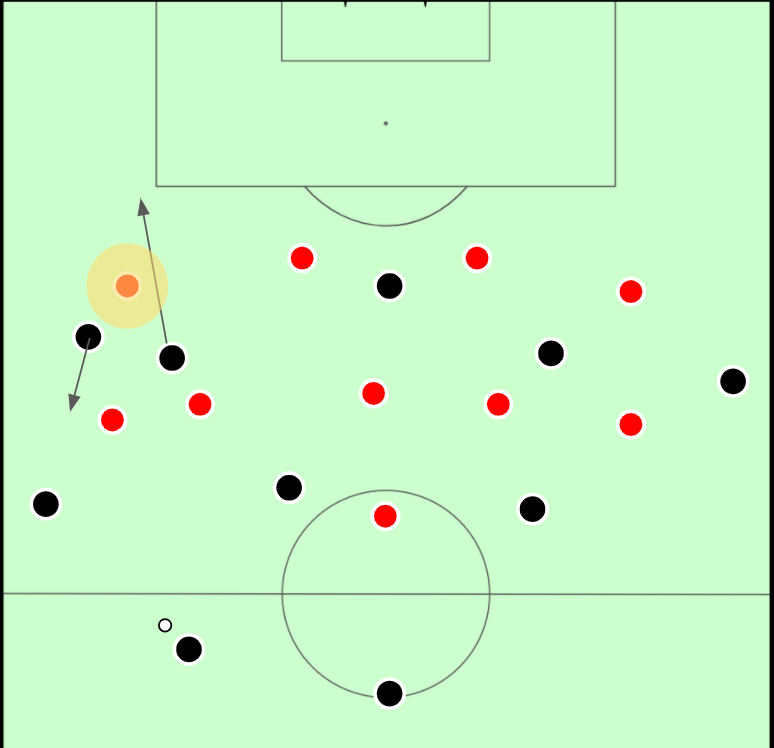 When you're trying to create on the soccer field, one attacker can drag a defender out of position, opening up space for the second attacker to exploit with their movement. That's why the whole "there's no gap for me to run through" thing is an invalid counter-argument. If there isn't space for you, you can make space for someone else.
On Sunday, the Netherlands tried to use countermovements to create. However, the timing was all wrong. In this clip, as Virgil van Dijk rotates the ball to Frenkie de Jong,  Wijnaldum and Quincy Promes are in the same area, so they attempt to use a countermovement to open up some space behind the opposing backline. 
Wijnaldum starts to move in one direction (forward, towards the goal), but Promes doesn't begin his movement (backwards, away from the goal) in time to entice the defender tracking his teammate. Because of the mistimed countermovement, the sequence ends with a turnover.
For Frank de Boer, helping his players become more aware of the importance of synchronous countermovements will allow his team to have more success creating chances against a defensive block. Add in some individual vertical runs and they could actually have a stew simmering in the crockpot. 
To the Dutch, I say this: creating is hard, but don't make it any harder than it has to be.