Bayern play lightspeed soccer
Hansi Flick coaches a Great Team that goes really, really fast.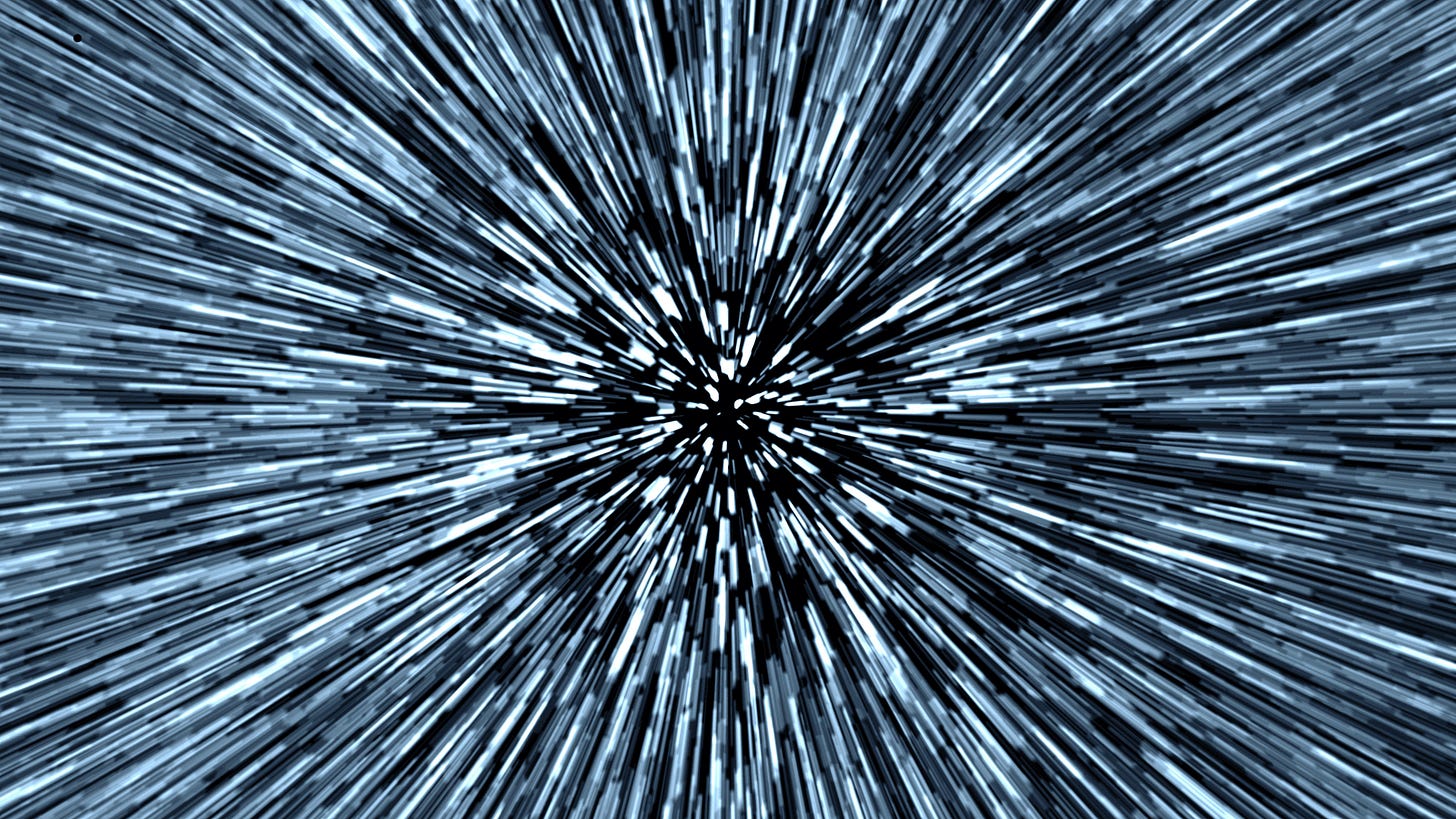 Image credit: Future.
Growing up as a decidedly average athlete playing on a team made up of decidedly average athletes, there were plenty of times when I would walk off the field (or stand hopelessly on it) and think to myself, they're just too fast. Like, too fast to even make it a game. That, I imagine, is exactly how every Schalke player who was unfortunate enough to see the field on Friday felt after their 8-0 loss to Bayern Munich. 
If Bayern were a normal team, this is the part of the story where I would have to clarify that they did really, truly, verifiably score eight goals. But Bayern Munich aren't a normal team. Only three games removed from their 8-2 demolition of Barcelona in last month's, er, last season's Champions League quarterfinal, Bayern carried their absurd form into the Bundesliga opener. Even without Thiago around to conduct their midfield, Bayern Munich had no trouble moving the ball forward and slotting eight goals past a poor Ralf Fährmann. 
As with any great team - and Bayern are a Great Team - it's impossible to pinpoint any one specific trait that makes them so great. It can't be done. It shouldn't be done. 
But I'm going to do it anyway. 
Bayern Munich are fast when they have the ball. Tracking data pending, I'm willing to bet that Hansi Flick coaches the fastest team in Europe. They transition with speed. They move the ball with speed in possession. And, maybe most ruthlessly, they run off the ball at speed. Schalke, who started the 2020-21 season free falling right where they left off at the end of 2019-2020 season, discovered all of this first hand on Friday.
Speed in transition
David Wagner's team was noticeably shy adventuring forward, as almost any team should be against the reigning European champions would be. Why? Well, because if you don't have numbers, like *a lot* of numbers, behind the ball or if you didn't have a chance to replace Leroy Sane and Serge Gnabry's cleats with cinder blocks before kickoff, you're going to get counter attacked. 
You'll go from this...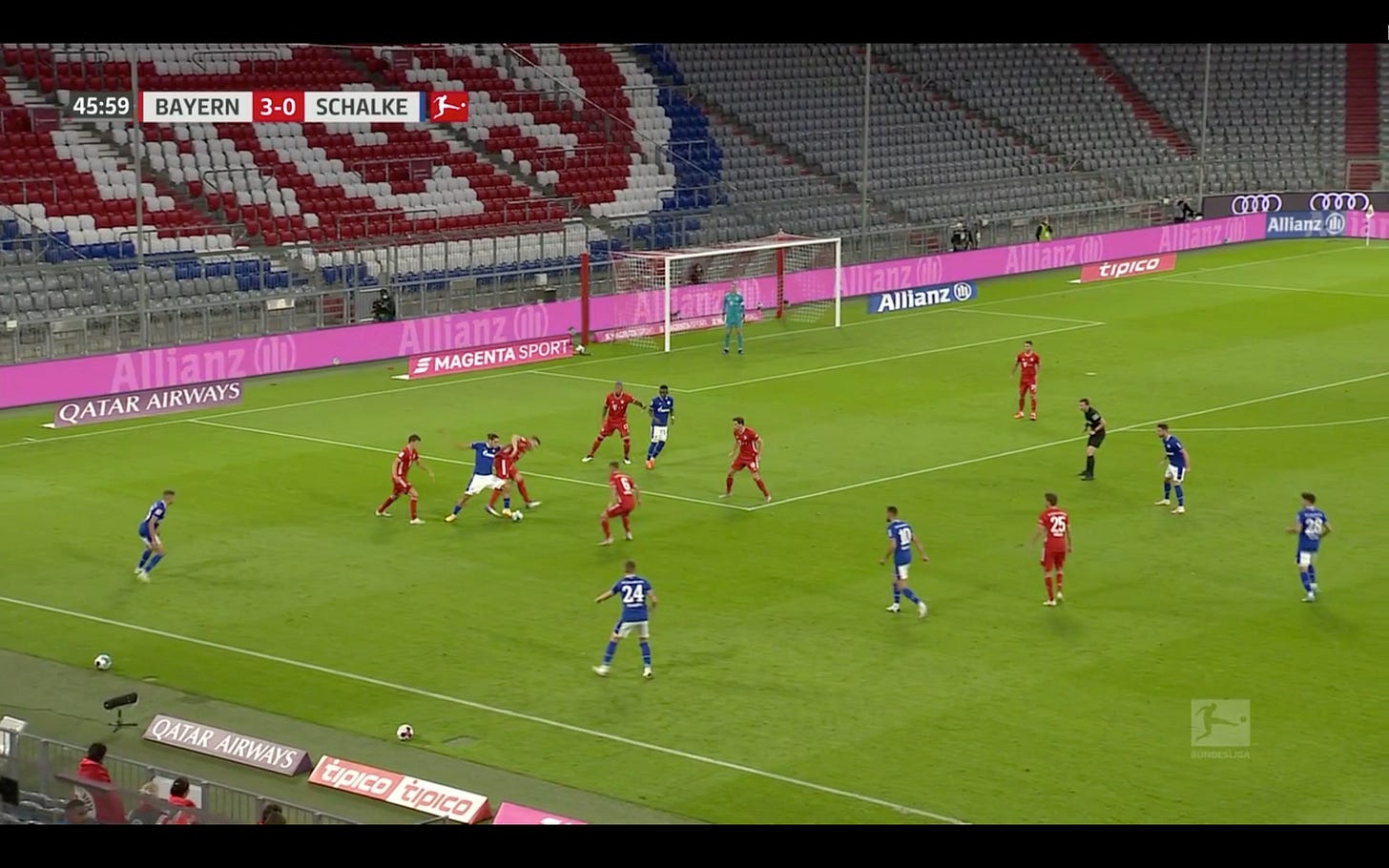 to this...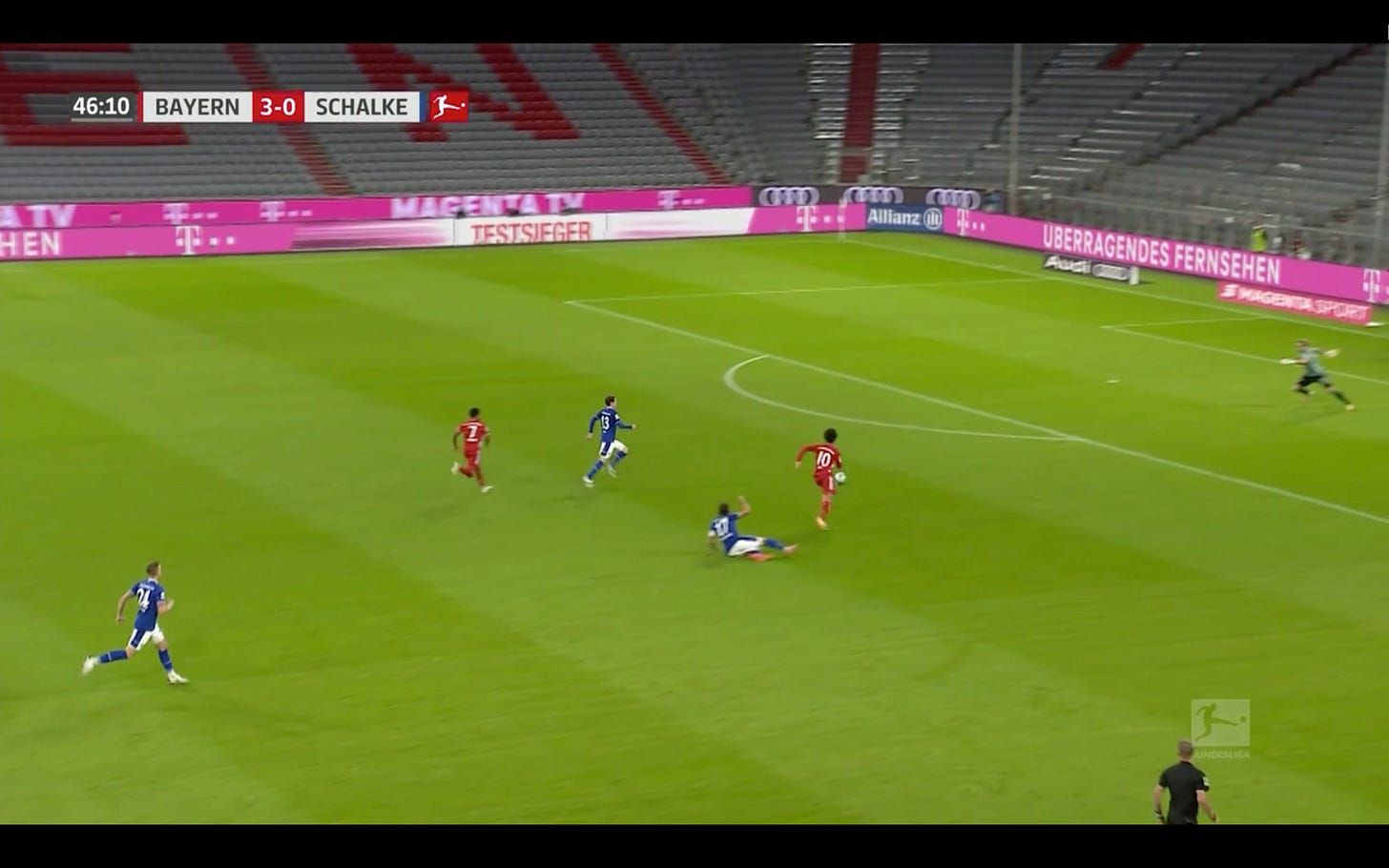 to this…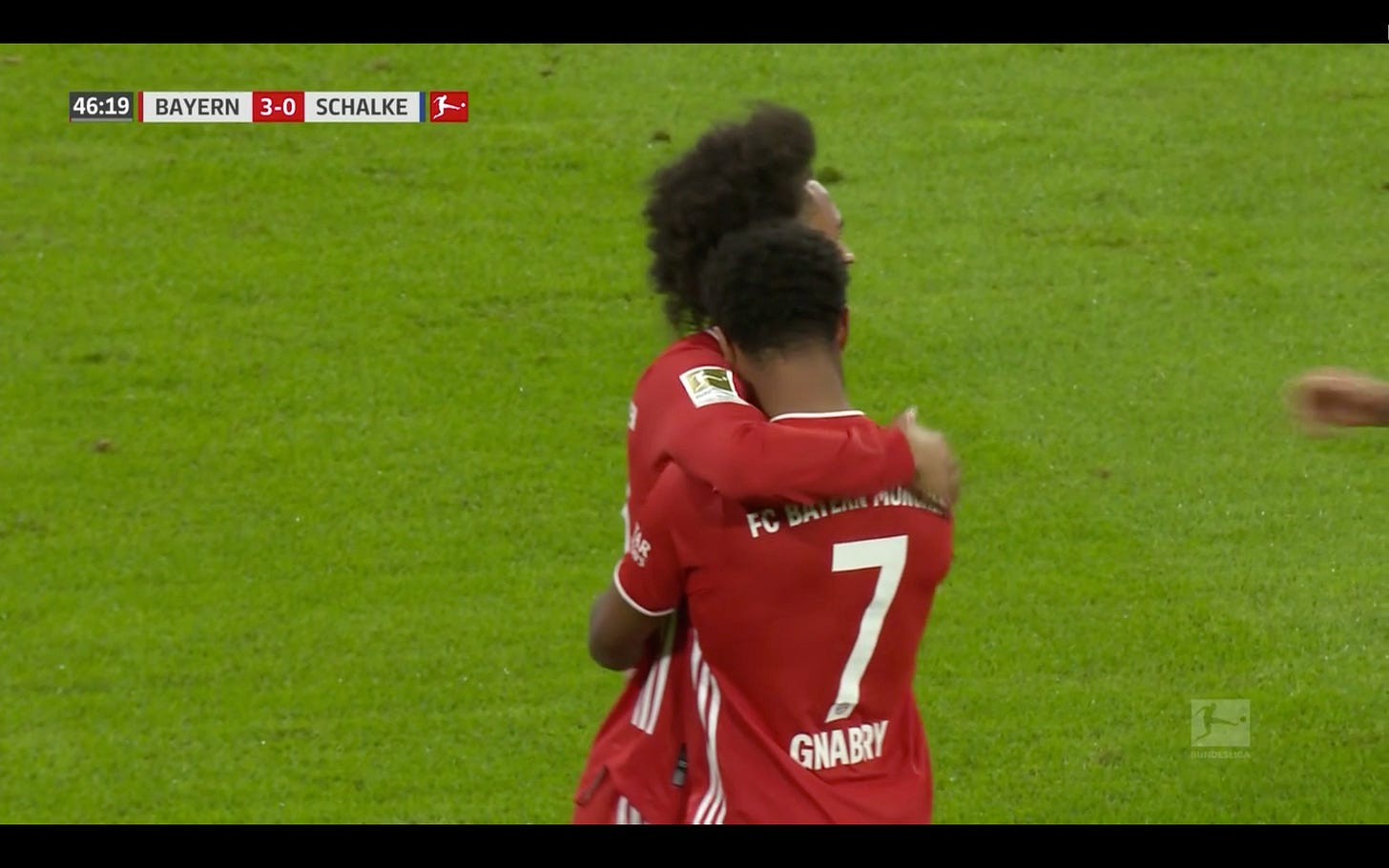 in 20 seconds. 
Schalke ended the game with 37% possession. Maybe they should have forfeited even more of the ball.
Speed in possession
Still, it's not like declining the majority of possession is a sure-fire way to beat Bayern Munich. It's very, very much not. When they were defending, which was (as we've established) for most of the game, Schalke tried to compress space defensively in a relatively narrow 4-4-2 mid-block. The idea of the block was to congest the midfield and encourage the reigning European champions to play the ball down the wings. The idea was…fine? Or, at least as fine as any defensive game plan can be against Bayern's flexible 4-2-3-1 possession shape. 
Is sacrificing the wings to Sane, Gnabry, and the fullbacks any worse than leaving space open for Leon Goretzka and Thomas Müller in the middle? Probably not. But, you know what's worse than leaving the wings or the middle open? Leaving both the wings and the middle open. Schalke's two central midfielders were supposed to block off access to Goretzka, the 8, and Müller, the 10. Sometimes they did and successfully (if you can call it that) forced Bayern wide. Other times, Bayern Munich found space between defensive lines, bounced the ball out wide into even more space, and then sent a small army of attacking players directly towards their opponent's goal. 
You know how when you're learning to drive, you hear all about the dangers of not checking your blindspots? Protecting the midfield in a defensive block against Bayern is exactly like that. You have to proactively check your blindspots, otherwise Müller burns you. Müller's not even fast, but he significantly boosts Bayern's speed in possession. 
Speed off the ball
As dangerous as they are moving the ball forward on the break or through the gaps in the opposing defensive shape, Bayern Munich's most devastating on-ball attribute may be their direct off-ball movement. When properly timed, an aggressive run from an attacking player that moves behind the opposing backline is an incredibly effective tool to help advance the ball into the final third. A standing defender is pretty much always going to get beaten by a sprinting attacker.
I mean, why mess around with midfield combination play when you could play the ball straight over the midfield to a well-positioned attacker? It's well-worked possession but without all the dilly-dallying. And if we know anything about Bayern, it's that they don't like to dilly-dally. 
Over and over and over again in the first half, also known as The Half When The Game Was Still Kind Of Sort Of A Game, Gnabry and Sane ran into the space behind Schalke's back four. Bayern's first goal came courtesy of a bent run from Gnabry that exposed Schalke's crooked offside line and left Benjamin Stambouli for dead.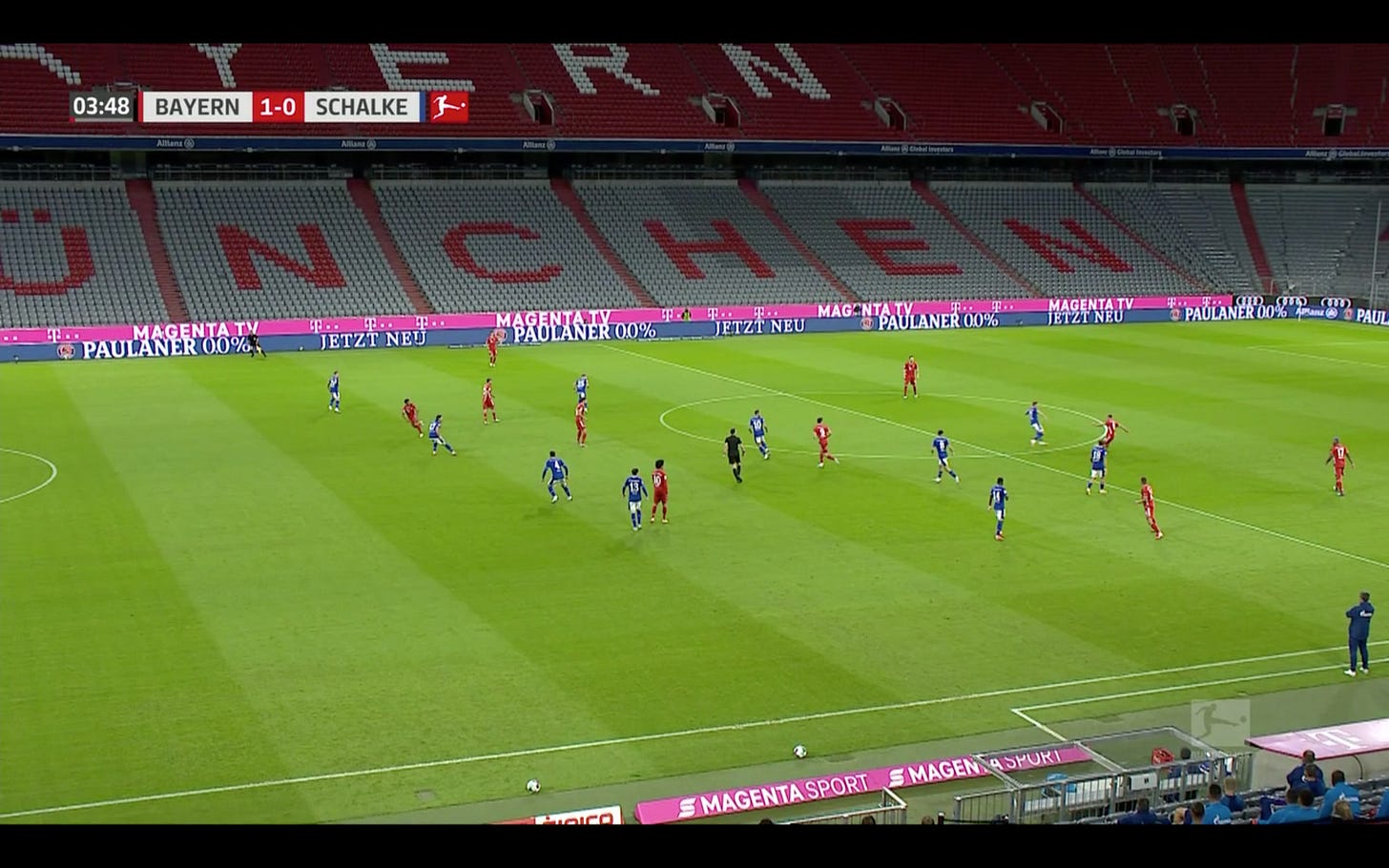 86 minutes, 7 more goals, and a handful of well-timed attacking runs later, the match ended. Mercifully. Schalke tried to keep up. They really tried. But they couldn't.
They were just too fast.