Chelsea and the dangers of oblivious defending
Scanning the field isn't just important in possession. It's a necessary part of defending, too.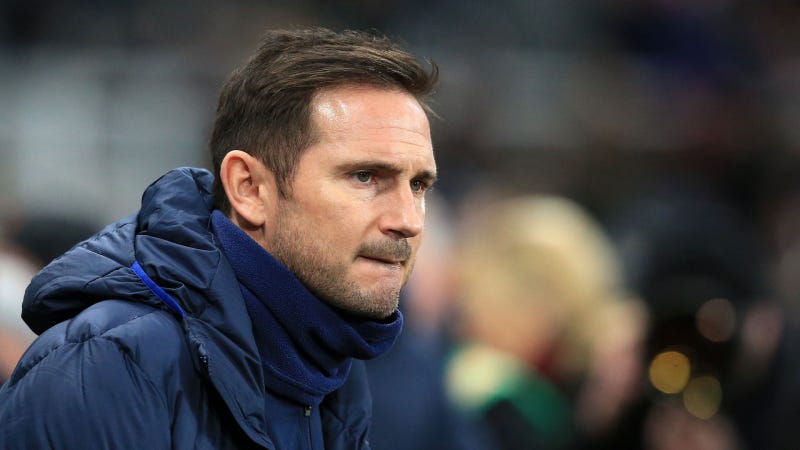 Image credit: Goal.
Sometimes I overcomplicate soccer. I never go full tactical analyst Twitter and throw out terms like "ballnear space" and "asymmetrical pressing rotations behind the third line", but I am often guilty of making things more complicated than they need to be. It's in my nature. Also, I totally made up those tactical terms and you didn't even notice.
To fight against my tendency to muddle things, I'll occasionally tell myself to take a step back, to zoom out and think about soccer in its simplest form. At its core, soccer is about scoring goals and stopping goals. To do those two things effectively, you have to know where the open space is on the field, that way you can move to attack the space when you have the ball and move to defend the space when you don't have the ball. 
Now, walk with me one step further down this logical path. In order to know where the space is on the field, you have to look for it. That's why Pep Guardiola hired a neck massage therapist at Barcelona to ensure that his central midfielders' necks were constantly in tip-top shape to support all of their head swiveling during matches. Okay, that didn't happen. But it should have. Setting the neck massage thing aside, the progression is simple, right? Seeing space helps you attack and defend, which then helps you score goals and stop goals. 
As a soccer-watching community, we've gotten quite good at noticing when players turn their heads and scan for space in possession. A Google search for "xavi scanning" yields approximately 407,000 results. Toss in a few bajillion two minute and 20 second Twitter compilations and you've got yourself quite the selection of videos illustrating Xavi's brilliant ability to spot and exploit space. 
Scanning is an important part of effective attacking. But we shouldn't forget that it's an essential part of effective defending too. I touched on this idea in last week's edition of Benched using a driving analogy: when you drive, you're supposed to check your blindspots, otherwise you'll miss things. The same concept applies when you're defending on the soccer field. You're supposed to check your blindspots, otherwise you'll miss things - and sometimes those missed things will hurt your team's chances of winning. 
Just ask Chelsea.
After a busy ~summer transfer window, Chelsea have collected four points out of a possible nine from their first three games of the Premier League season. Their two most recent league results, a 2-0 loss to Liverpool last week and a 3-3 draw to West Brom on Saturday, were marked by a lack of defensive awareness. To be clear, it's not even remotely close to panic-button-pushing-time for Chelsea - they have tons of talent and even more to integrate into their match day roster. However, it's never too early to point out on-field breakdowns, so let's rewind to a couple of specific sequences that expose Chelsea's lack of defensive scanning.
September 20, 2020: Chelsea 0, Liverpool 2, 50th minute
Five minutes into the second half against Liverpool, Frank Lampard's team found themselves defending deep in their own territory. While Roberto Firmino and Mohamed Salah moved the ball forward against the left side of Chelsea's defense, Sadio Mane stood on the weak side, lurking in the shadows. He knew that all of Chelsea's eyes were on the ball. Mane also knew that two of those eyes belonged to Reece James, the man responsible for dealing with his movement.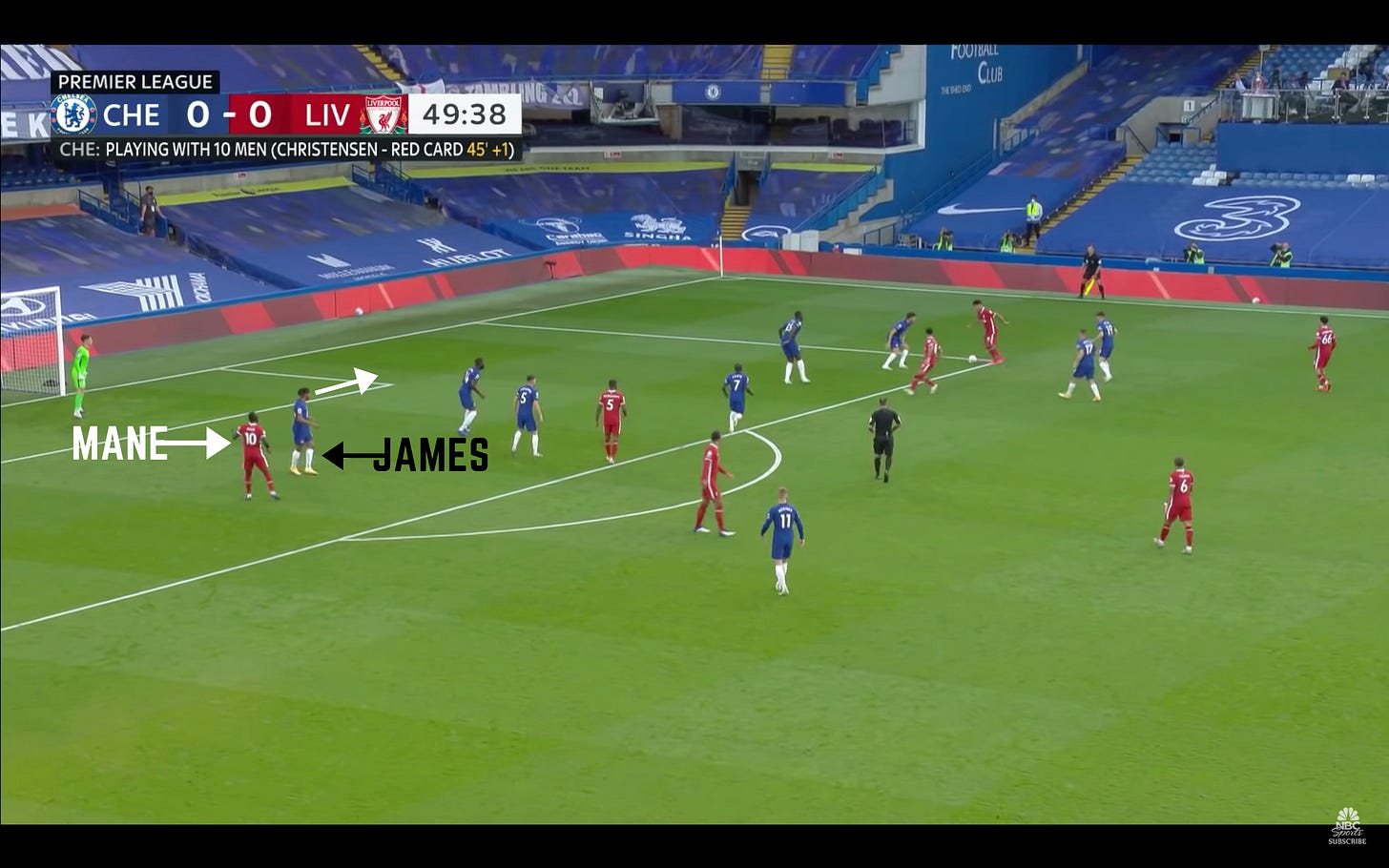 As Firmino and Salah played past Marcos Alonso, the Senegalese forward started to make his move. James took a half-hearted look over his shoulder but at that point he was in no position to bump Mane's run or disrupt his rhythm. Mane had plenty of time and space to get on the end of Firmino's cross and score Liverpool's go-ahead goal. 
James couldn't deal with Mane on this play. Not because he didn't look for him, but because he didn't look for him soon enough. When you're defending, it's not enough to look over your shoulder at the last second. Things move, and if you don't monitor those moving things on a regular basis, then you're at risk of losing track of an attacker in the box and giving up a goal. If you don't monitor those moving things at all, then you're at an even higher risk of losing track of an attacker in the box and giving up a goal.
That brings us to Saturday's match between Chelsea and West Brom.
September 26, 2020: Chelsea 3, West Brom 3, 27th minute
Already down 2-0 midway through the first half, Chelsea totally lost track of West Brom center back Kyle Bartley near the back post while defending a corner kick. Well, they didn't really lose him. They, uh, didn't look for him. Alonso and James didn't turn their heads, which means they couldn't see the space, which means they couldn't see any need to defend Bartley in that space.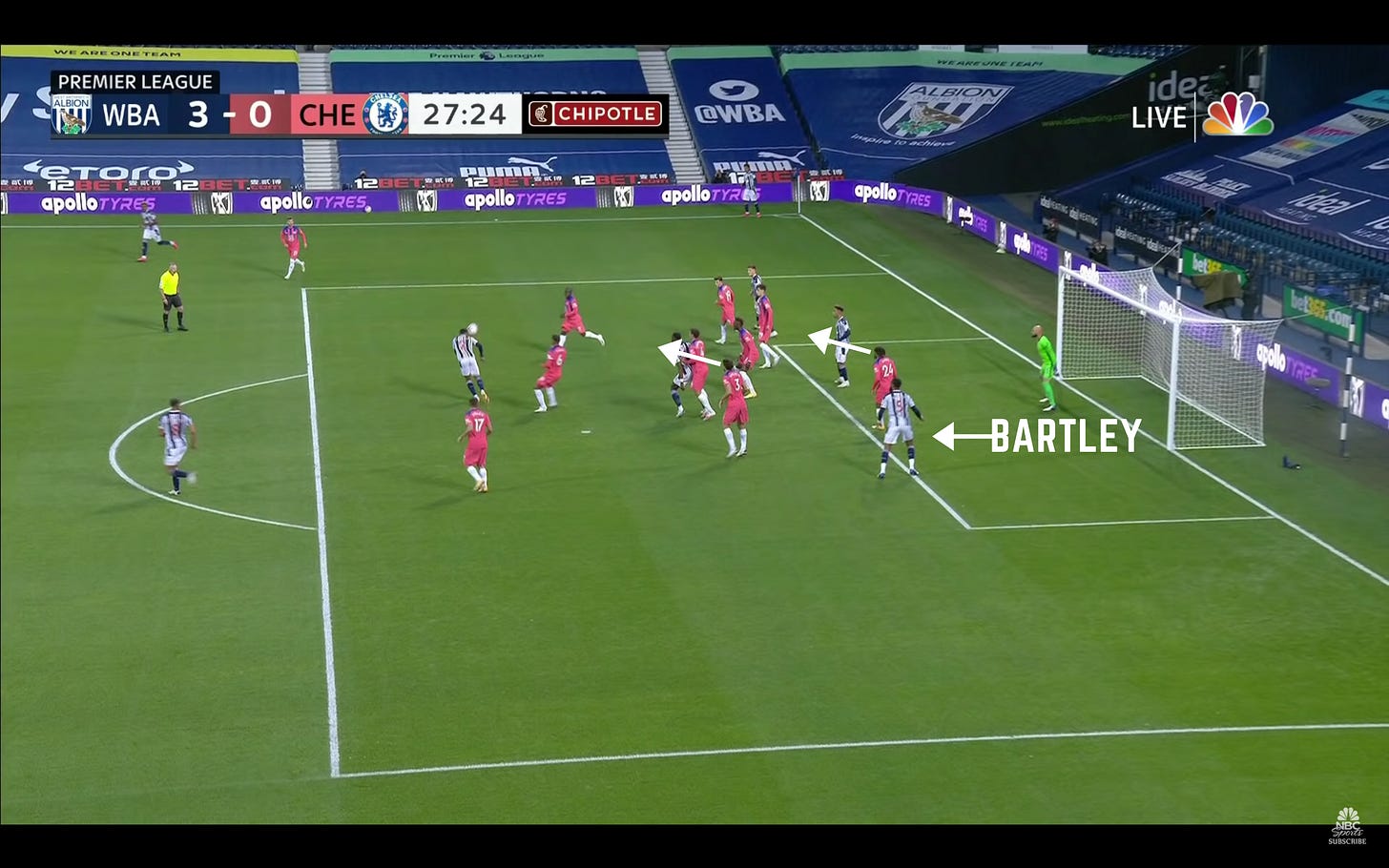 One headed flick to a wide-open Bartley and one tap-in later and Chelsea trailed 3-0.
When you play peek-a-boo with a small child, it's fun for the child because they don't understand the concept of object permanence. You know that objects still exist even if you can't see them, but your peek-a-boo partner doesn't know that. Chelsea's defenders are too old for peek-a-boo but they're not too old to pretend that opposing attackers don't exist.
Of course, a lack of defensive vision isn't just a Chelsea problem. It's a problem for really good teams (and really mediocre teams) all over the world. But if you're playing for a team like Chelsea that needs to contend for trophies, turning your head a little earlier and a little more often is a great way to cut down on defensive mistakes. Fewer defensive mistakes means more wins. And more wins means more trophies. 
Sometimes soccer doesn't have to be complicated. Sometimes all you need to do is look around.