Throw-ins and alternate reality
Throw-ins often fall by the wayside. But what if teams gave throw-ins a little love?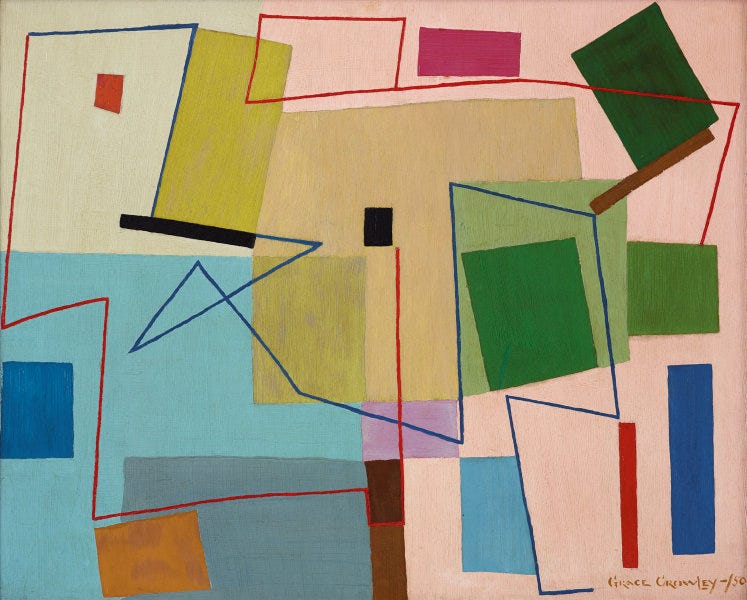 Painting by Grace Crowley.
You and I need to talk. No, it can't wait. We really should've had this conversation ages ago. It's about your throw-ins.
Of course, the "you" and "your" used above isn't actually referring to you, dear reader. No, my intention with those second person pronouns is to refer to just about every team in the soccer world. So many professional teams are poor at throwing the ball back into the field of play. Well, let me rephrase that. Teams are typically quite good at the throwing thing - they've got the hold the ball behind your head, plant your foot (feet) on the ground, and throw the ball forward down pat. Where many fall short, though, is with using throw-ins as a tool.
Contrary to common belief (and it saddens me to say this), Danish throw-in coach Thomas Gronnemark has not yet fixed throw-ins. He's done some cool work with a handful of top clubs from around the world to help improve their throw-in ability, but if you watch a game, you can tell: there are still plenty of clubs out there who could use some guidance when it comes to the throwing part of soccer.
I want to be clear here, I understand that throw-ins often fall by the wayside in training. In my time covering professional soccer, I've never seen a team deliberately work on a throw-in during practice. And for a justifiable reason. There are a thousand things that coaches need to get through in a week of training leading up to a game. They have to address their own weaknesses, reinforce their strengths, and supply their players with information about the opposition's weaknesses and strengths. Throw-ins, understandably, get lost in the shuffle.
But what if they didn't?
What if throw-ins were trained and analyzed and critiqued and used as an opportunity to gain an offensive advantage just like every other offensive item in soccer? What if throw-ins could go outside and play with the other kids instead of being forced to stay inside and watch from the window? Things, and I feel confident in saying this, would look different. Let's explore this hypothetical world, one full majesty and wonder and effective throw-ins.
In our alternate reality, coaches and analysts would separate the throw-in into different phases, not unlike they've already separated open play into phases. In open play, the generally-accepted progression goes like this:
Possession

Defensive transition

Defending

Offensive transition
Those phases serve as a path through soccer's continuous action. It's fluid, but segmented. Attacking, turnover, defending, turnover, etc. Though the actual phases are different, the concept applies to throw-ins, too. For a throw-in, the phases could look something like this:
Starting positioning

Movement to create a free player

Ball retention

Defensive transition
Dividing the throw-in into segments allows us to go more in-depth on how to prepare, execute, and benefit from quality throw-ins. To continue our analogy between open play and a throw-in, if coaches didn't train their teams to understand the varied requirements of the various phases of play, we would see a lot of players looking very, very confused during games. With throw-ins, getting specific and segmented provides us windows to analyze the effectiveness of a particular throw, while also giving coaches opportunities to train different parts of the routine.
I've already submitted a potential list of those parts, so it's time to dig into what the four throw-in phases really mean.
Up first is starting positioning. This one is simple (actually, they're all simple). Starting positioning is about where players position themselves before the throw. If we were to peek our head back into our real reality for a moment, we would see teams placing a handful of players near the thrower on the sideline. That's their starting positioning. There's nothing inherently wrong with that. In fact, you need players positioned near the ball to act as outlets for the thrower.
However, having players close by isn't enough, which brings us to our second phase: movement to create a free player. Starting positioning has to be paired with movement to make sure that things don't get stagnant, because the more stagnant the offensive movement is, the easier life is for the defensive team. You can probably hear the words of your youth soccer coach echoing in your ears right now: "Move around!".
When you move, you open up space for a teammate. They might not take it, but hey, at least the space is there. If you really want to spice up your throw-in routine, toss a pick into the equation and use your body to hinder a defender and create separation for a teammate to receive the ball from the thrower. Is setting a screen legal in soccer? No. Did that stop Jordan Henderson from doing it on this play against Chelsea? No.
Even if you don't want to set a pick, know that movement is an essential part of an effective throw-in.
Ball retention, our third phase, is largely dependent on the movement phase. Most of the time (not all the time), good movement leads to space, which leads to a clean reception, which leads to sustained possession after a throw-in. Retaining possession feels like a pretty achievable goal for the throwing team, but let me tell you: teams in the less fun reality have lost so many throws/possessions after a pretty lackluster sideline pressure from defensive teams. If you're the offensive team, move the ball quickly out of tight spaces and find green grass in the middle of the field. Or on the far side. Or back towards your own goal. There is space out there, ready to be exploited. Retain the ball by finding that space.
Finally, we have arrived at our last phase: defensive transition. Even in a reality where coaches have the time and desire to adequately prepare their players to execute quality throw-ins, some throws are still going to fall short. Literally. When those throws happen, counter pressing is your friend. Last week's Benched was all about the (somewhat) proactive nature of the sideline trap. Because the sideline acts as an extra defender, it's the perfect spot to press and win the ball back after losing it.
Is the four phase (1) starting positioning, (2) movement, (3) ball retention, (4) defensive transition progression the right way to think about throw-ins? Maybe, maybe not. But thinking about throw-ins at all seems like a step in the right direction. Who knows, some day coaches might be able to find an extra 15 minutes in one of their training sessions to squeeze in some throw-in work, improve their teams, and make our alternate reality a little less alternate.