The double inversion
One inverted wide player was never going to be enough.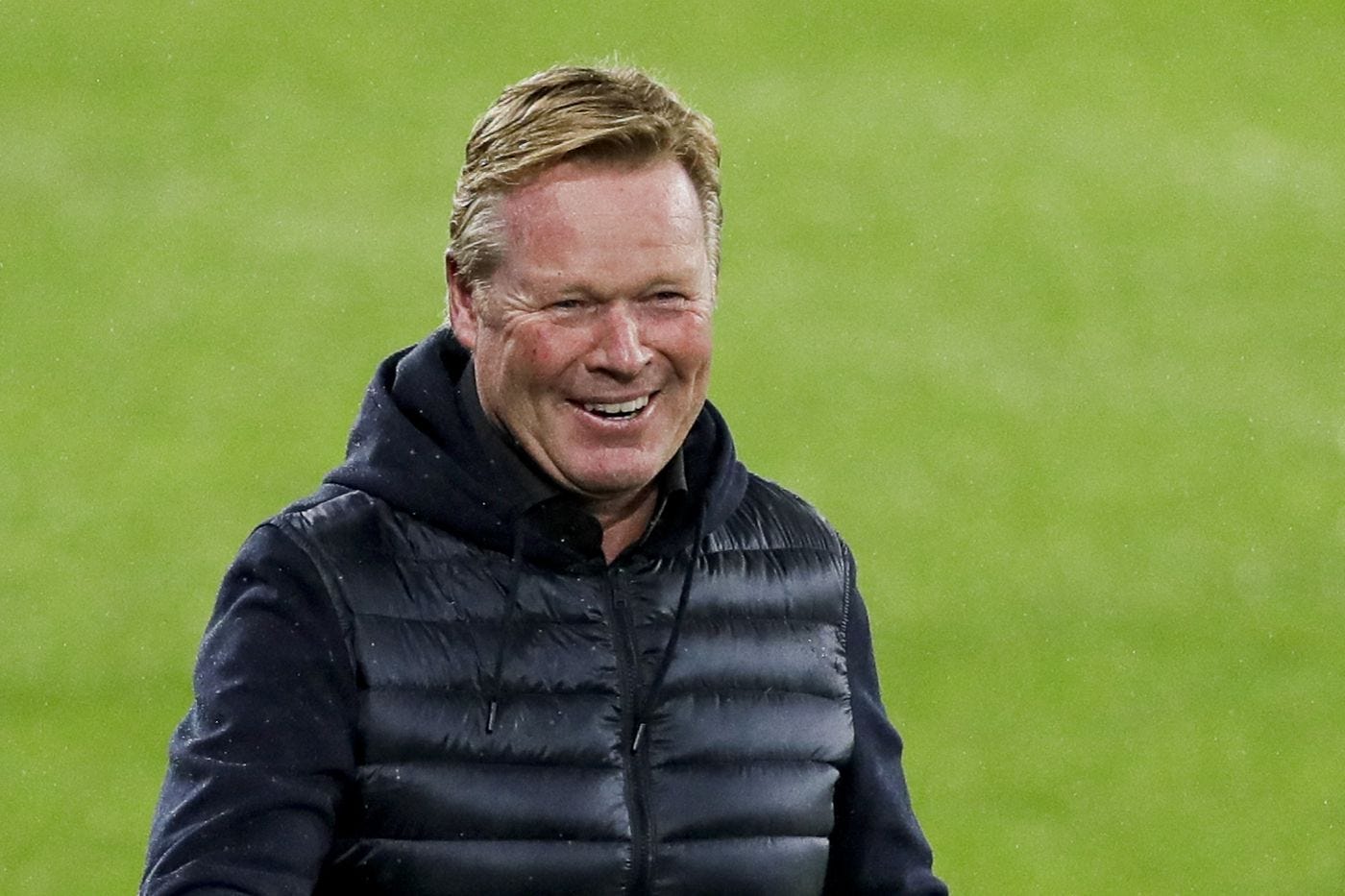 Image from: Getty Images.
Ronald Koeman was dressed in all black for Barcelona's matchup with Getafe but he should've been wearing a white lab coat. He also should've been pacing back-and-forth while whispering to himself about "the calculations" and "the molecular reaction". Though his hair isn't long enough or unkempt enough for him to be a mad scientist, Koeman's starting eleven in Barcelona's 1-0 loss over the weekend did give off serious mad scientist vibes. 
Well, not the whole lineup. I mean, sure, there's no number nine and Antoine Griezmann and Frenkie de Jong still look like strange purchases, but those things aren't Koeman's doing. No, the experimental part of the lineup was on the left side of the field where Ousmane Dembélé and Sergiño Dest started at left wing and left back, respectively. 
Dembélé, for those of you who haven't caught the seemingly few games when the Frenchman has been healthy over the last couple of seasons, is right-footed. And Dest, though he's played all over both wings for Ajax and the United States, is also right-footed.
By placing Dembélé and Dest on their non-dominant wing, Koeman created a double inversion. That's a term I've just come up with, but it's how I'm going to describe a wing where there are two players playing on the side of their weak foot. A single inversion? That's so 2010s Bayern Munich. This is the 2020s, baby, and we've taken your inverted winger trend and doubled it. By "we" of course, I mean Ronald Koeman, the rest of his Barcelona coaching staff, and whichever coaches have put two inverted players on the same side in the past.
Soccer watchers have grown quite accustomed to seeing fullbacks move inside and temporarily act as additional central midfielders in possession. It was strange once, back when David Alaba and Phillip Lahm started doing it for Bayern Munich. Now even Nick Lima is doing it, so I'm pretty sure that the interior/inside/insert-cumbersome-tactical-jargon-here has gone mainstream. But rotating a fullback into the center of the field isn't the same thing as playing a fullback on the side of his weak foot. 
An inverted fullback, which is half of the double inversion, is not a right back (or left back) moving from the right (or left) wing to the right (or left) halfspace. The crux of the double inversion is that the fullback is inverted, just like the winger. In a way, it's a natural evolution. Fullbacks have largely become wingers or, at the very least, they've become indispensable attackers. If outside defenders are so important to an attack, why not invert them like the players they often emulate? 
It's really, really unlikely that Koeman asked himself that question before kickoff against Getafe. After all, Dest was only in the lineup because of an injury to Jordi Alba. Still, for our tactically curious purposes, it doesn't matter why Koeman put Dest and Dembélé together. All that matters is that it happened, the double inversion has gone main stream, and now we can pick it apart. Though the evolution from a single inversion to a double inversion was inevitable, we still know almost nothing about what happens when you stick two players on their non-dominant side. 
So, uh, what does happen? Or to put it more specifically, what happened in Spain on Saturday?
For large stretches of the game, Barcelona's left side looked like most other left sides around the soccer world. Their left winger started wide before drifting inside to either occupy the half space or to dribble at Getafe defenders while their left back stayed outside to provide width and overlap. Dembélé and Dest were fulfilling stereotypical winger and fullback roles in Koeman's 4-2-3-1. In those moments, the double inversion was nearly invisible.
In other moments, Dest's right-footed instincts took over and the double inversion was out in full force. "Why should Dembélé be the only one who gets to move inside?" Dest thought to himself during the match (probably). It didn't happen a ton, but there were times when both Dest and Dembélé (and later right-footed left winger Ansu Fati) tried to move inside into the same space. On this play, it's not overwhelmingly awkward when Dembélé cuts inside and finds Dest making a run into a similar spot, but it's not not awkward. 
Maybe it's old fashioned of me to think that Dembélé's inside dribble that occupies the two wide defenders on the outside of Getafe's 4-4-2 block creates a perfect opportunity for Dest to overlap and get behind the backline. Okay no, I think that's exactly what should've happened here. Both players, Dest and Dembélé, want to move inside. Neither one really wants to be the width. 
The same thing happened with Dest and Fati. Here, Dest is already inside and Fati wants to join him. It gets awkward. 
From the two clips shown above and the other 90ish minutes that Barcelona played on Saturday, the early reviews for the double inversion aren't positive. And yet I can't stop myself from wondering: could the double inversion be something? Is there a way to weaponize it and use it as part of an effective offensive scheme? Toss an overlapping center back into things or move an adventurous central midfielder up and down the wing in possession and you might be able to run a fullback and a winger into the midfield of the field without losing your offensive balance.
Or maybe there's a way to combine the central movements from the fullback and the winger without it being awkward. I'm not sure. Koeman's somewhat forced experiment didn't work well for him, but could the double inversion work on a different day with a different set of tactics? 
Maybe.