Standing out in soccer's Pressing Age
Everybody is pressing. So how can your pressing team stand out? Try forechecking.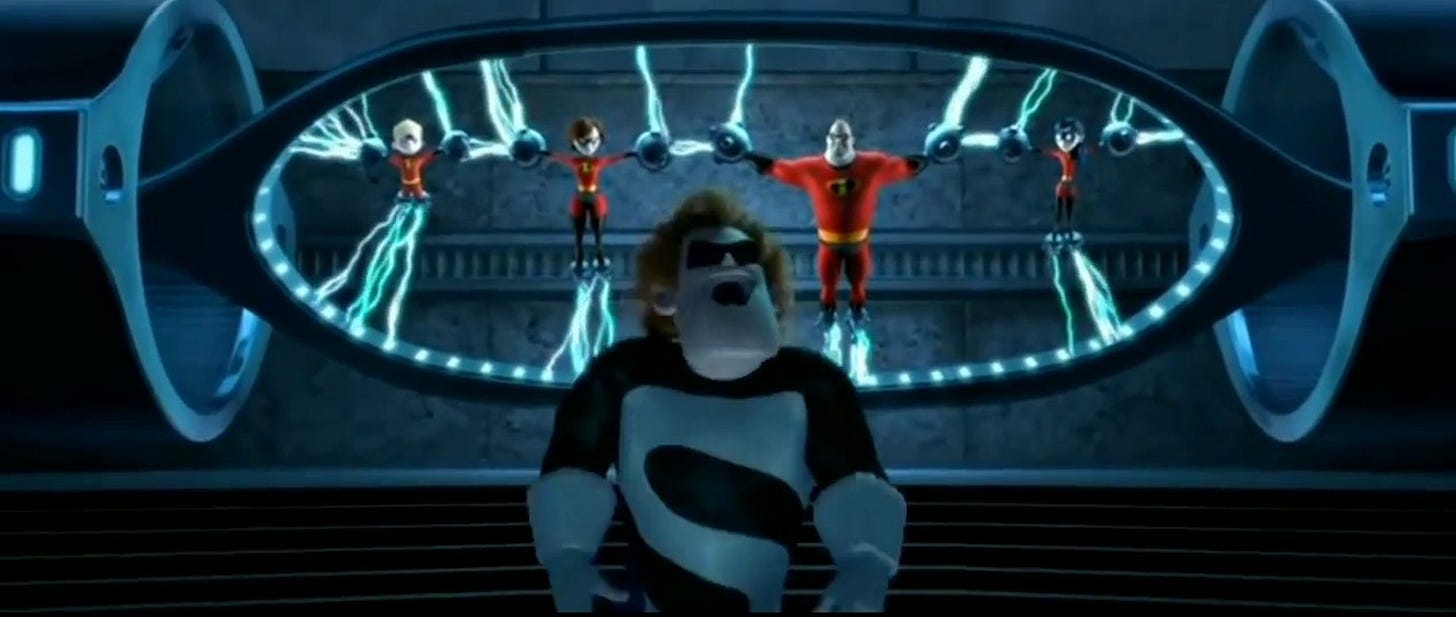 Image from: Pixar.
I've been working on a little party trick over the last week or so and I think I'm finally ready to try it out. I want you to think of a professional soccer game you watched this week. Any professional game. Live, recorded, fast-forwarded through on 1.5 speed, it doesn't matter. 
Do you have a game in mind? Good. Here comes the trick. I can guarantee you that during the ~90 minute game you watched, at least one team, if not both teams, pushed their numbers high up the field to press. Am I right? 
That's what I thought. It's a pretty neat trick, huh? 
Okay, it's not really a cool trick (and I do promise that I'm not this boring at parties) but I do think it's a fairly accurate representation of modern soccer's reliance on pressing. We are currently in one of soccer's Pressing Ages™, which means that most teams press. Sure, some teams do it more than others and others do it less than they used to, but most teams press.
Though soccer's decision to adopt pressing as a global tactic was somewhat inevitable given the sport's cyclical nature, it has created a problem. Allow me to flesh out this problem using the plot from Pixar's 2004 animated classic The Incredibles.
If you haven't been blessed enough to watch all 116 minutes of The Incredibles, it's about a family of superheroes who have to stop a pointy-haired villain named Syndrome from distributing inventions that help him rule the world and make a profit out of turning ordinary people into superheroes. At one pivotal point in the movie, Syndrome has the family of protagonists in chains. As he walks away from them, he laughs and says, "When everyone's super, no one will be."
That's kind of what soccer's widespread adoption of pressing is like. If everyone presses, then the Real Pressing teams, the ones who want to make it part of their identity, are left to figure out ways to differentiate themselves. Ways to elevate their pressing. Ways to make what they do better than what everyone else is doing. Ways to be super. 
Forechecking is one of those ways. 
Though its roots are in hockey, the term "forechecking" has evolved in the soccer coaching sphere. At one point, it meant the same thing that high pressing means to us today: pushing your players up the field to disrupt your opponent's possession. Now, at least to Red Bull Salzburg manager Jesse Marsch and other branches of the Red Bull family, it has a more specific meaning. I'm going to go ahead and let Marsch define it for us:
[Forechecking is] the ability for the player to step in front of the opponent and get his foot on the ball or steal the ball which can then lead into a transition moment.
Imagine, for a second, that you are a center back tasked with keeping an eye on the opposing number nine while your midfield and attacking teammates step high up the field to press. You, yeah, that's you right there.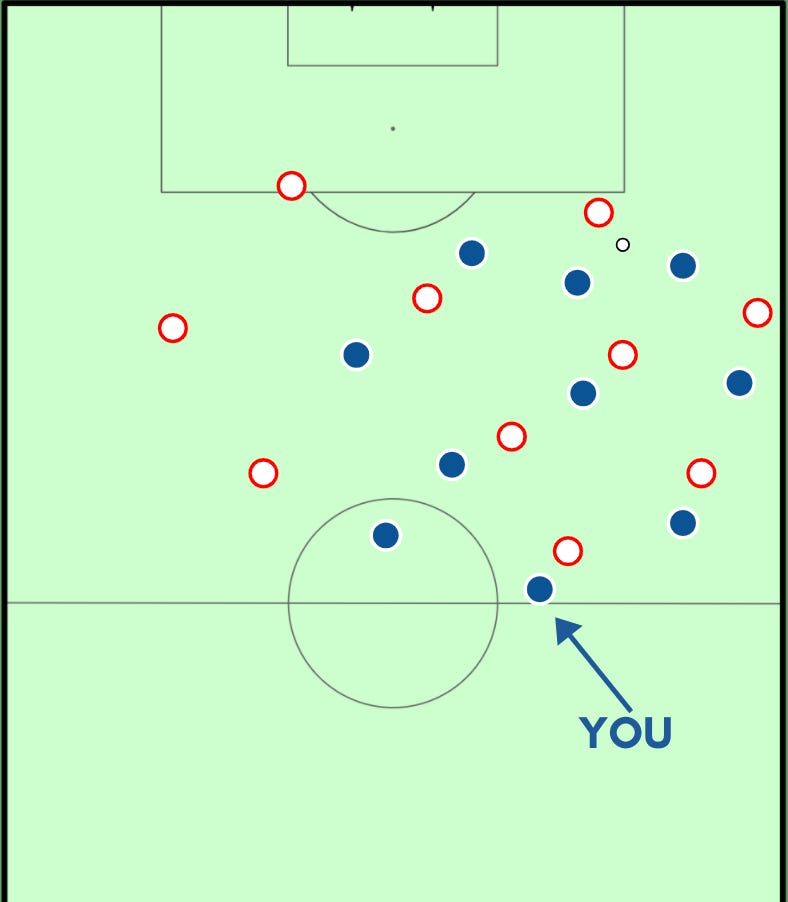 In this moment, you're probably thinking about how to protect your team's half of the field. Or if the ball comes to the opposing striker, you're thinking about how to step in and block the pass in a way that ends the opposition's attack. That seems like an appropriate thought process, right? For a center back, protecting your goal and destroying attacks are important things. Forechecking, though, takes defending past protection and destruction and into chance creation. 
Revisiting Marsch's definition, we can see that he doesn't stop the explanation after, "[Forechecking is] the ability for the player to step in front of the opponent and get his foot on the ball or steal the ball…" He made sure to include the most important thought, "…which can then lead into a transition moment."
If you want your team to stand out from the pressing crowd, you can't just use your pressing as a defensive mechanism. You have to use it as an offensive one too. That's why Marsch's philosophy - and the philosophy of other ambitious, efficient pressing teams - is to use pressing to create attacking chances. That small mental distinction between defensive and offensive pressing can change a game. And in one of RB Salzburg's biggest games from last season, it did.
Midway through their home match against Genk in the Champions League group stage, Salzburg extended their line of confrontation to meet Genk's center backs. Salzburg funneled the ball to the opposing left-sided center back, who then prepared to pass the ball upfield.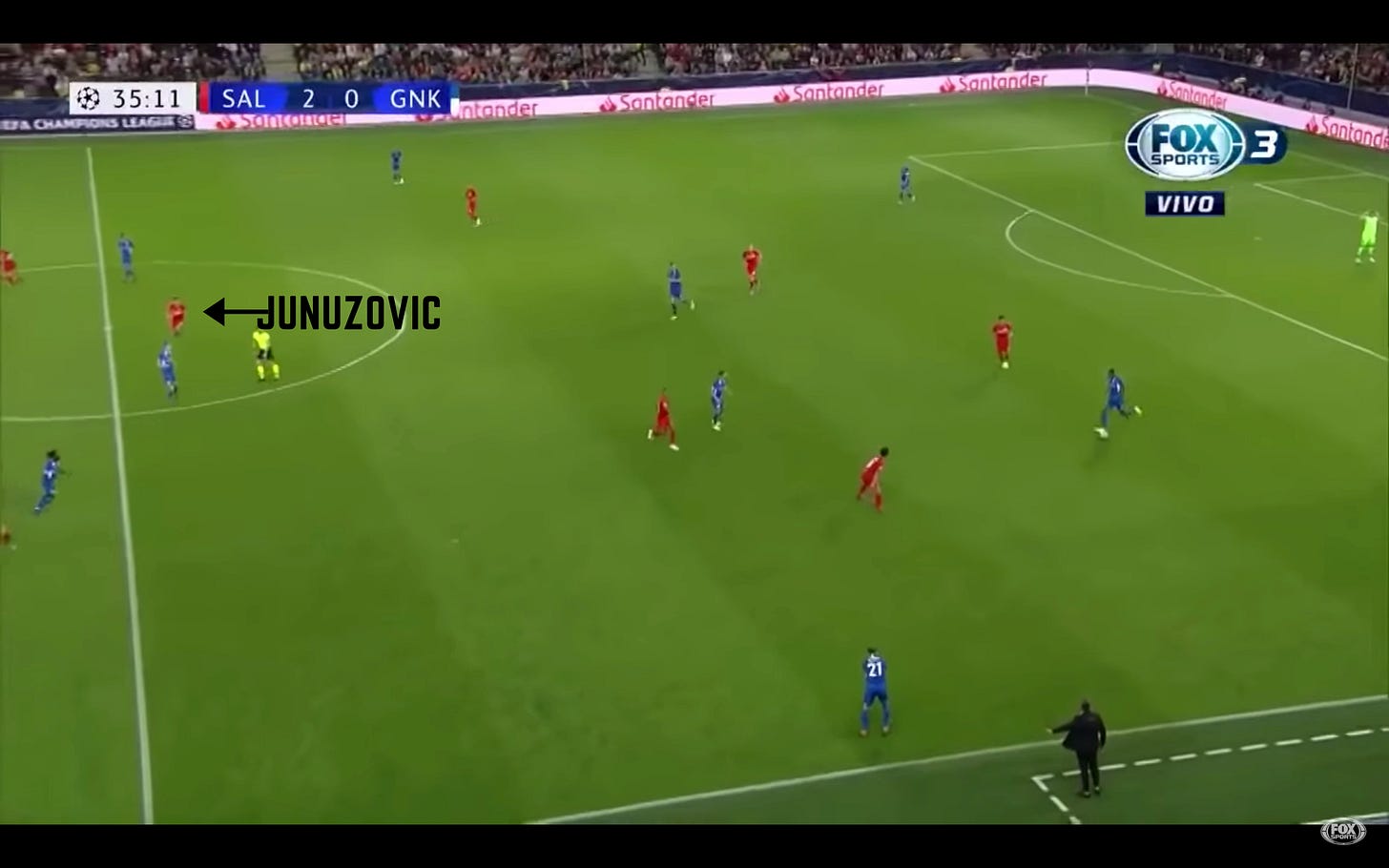 With the center back less than a second away from releasing the ball, Salzburg shifted into forecheck mode. Defensive midfielder Zlatko Junuzović read the flight of the ball, stepped in front of the intended receiver, and one-touched the ball forward to Hwang Hee-chan who scored to put Salzburg up 3-0. 
From forecheck to finish, the goal sequence took all of five seconds. Five seconds to put the game out of reach and secure three points in the Champions League group stage. 
After last Thursday's Champions League draw, RB Salzburg are back to that stage this year. Will they make it out of a tough Group A over two of Bayern Munich, Atletico Madrid, and Lokomotiv Moscow? Who knows. But you can bet that they are going to bring their forecheck-created transition attacks with them on their European tour.
Unwilling to sit by and watch pressing become irrelevant, Marsch and Salzburg are proving that smart pressing teams will adapt and figure out how to be super.